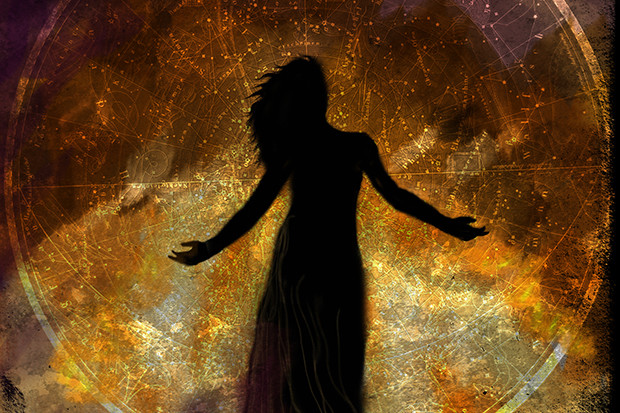 I interviewed Rivqa Rafael, one of the editors of the upcoming Problem Daughters anthology. It's an amazing, worthy project. I hope you will find this interview both interesting and useful. Please do spread the word about this anthology.
Problem Daughters will amplify the voices of women who are sometimes excluded from mainstream feminism. It will be an anthology of beautiful, thoughtful, unconventional speculative fiction and poetry around the theme of intersectional feminism, focusing on the lives and experiences of marginalized women, such as those who are of colour, QUILTBAG, disabled, sex workers, and all intersections of these. Edited by Nicolette Barischoff, Rivqa Rafael and Djibril al-Ayad, the anthology will be published by Futurefire.net Publishing and is currently being crowdfunded.
DG: Problem Daughters. Let's talk about the name first.  Why this title? And why "Daughters" specifically, as opposed to women, mothers, sisters etc.
RR: We put a lot of thought into our title; of course we wanted something that would make people curious about what we had to say, as well as something that accurately reflected our aims. So it's "problem" in the sense of not being accepted by mainstream feminism, and that could be for any number of reasons. Mainstream feminism doesn't respond well to difference; it expects all other concerns to be put on hold for the cause. Race, ethnicity, religion, ability, choice of profession (most notably sex work); these and other intersections can make feminism a less accepting space. We're a problem to feminism; feminism is a problem for us. The anthology is both of these aspects.
"Daughters" felt like another interesting way to engage with our topic. "Women" would fit, sure, but having a different word in there makes our descriptions less repetitive, so there was a practical angle there. Not all women are, or can be mothers; the concept of a feminist "sisterhood" and the shared experience it implies is part of what we're critiquing. But we're all daughters, in one way or another, and responding to the past is another key element here.
DG: Why do you think this anthology is needed? Why not just standard BAME submission as many publishers tend to do these days?
RR: Anthologies can be anything from a completely open call to a most narrow, almost bizarrely specific theme, and I think this range is a great thing. I've written some of my best work (in my opinion) in response to calls for submission to anthologies; something about a theme can spark something I might not have considered. Problem Daughters falls somewhere in the middle of the pack in terms of specificity. Hopefully, this keeps the topic broad enough that authors can play with it in interesting ways, but specific enough to be inviting to the marginalised authors we're hoping to attract. Of course, this anthology doesn't stand in isolation, and I hope it complements past and future diverse works.
DG: As a woman from an ethnic minority, and as a writer, this idea excites me. You see in fiction, Indian women often depicted a certain way – exotic beauties, or sari wearing domestic goddesses, or whatever. I have a problem with that. I am sure this happens to other cultures, and other voices too. So I love this idea that you're trying to find voices that are even more ignored than "minorities" in general because let's face it, minorities can be snobby too about inclusions and representation. My question is – how do you define these women? How do you define "feminism" in this selective context?
RR: I'm so glad it excites you! That's definitely part of what we're trying to address. Even just the tiresome concept that a single white woman can be a stand-in for diversity (Star Wars, again? Really?). What you say about inclusion is such an important point; this has been my almost constant experience, being at turns "not Jewish enough", "too Jewish" or my personal favourite, "Jewish in the wrong way".
But in terms of the anthology, we don't want to define these women too closely; they will be marginalised in some way, and we've given examples, but mostly we want the reaction you've given – an individual interpretation, written as a story or poem. Likewise, our definition of feminism is as broad as possible; our stories might come from womanists or authors who don't self-identify with any such movement at all. Mostly, we want to see how our potential authors choose to engage with the topic, rather than define it for them.
DG: I believe three of you are editing this anthology, Djibril al-Ayad, Nicolette Barischoff and you. Would you say your experiences in fringes, or perhaps outside of mainstream voices helps you be more sympathetic or empathetic to the voices you seek to represent?
RR: I hope so. I can only speak for myself specifically, of course, but I really hope so. I'm white, able-bodied, queer and Jewish; I have a lot of privilege, and more passing privilege now that I'm no longer religious. But I also had a very different upbringing from the average white Australian, which stands out very starkly in certain circumstances. And within that very insular community, that "not Jewish enough" I mentioned before was often at play. There's a bitter advantage to always being an outsider, but yes, I think it does force one to develop empathy. It's much more pronounced for people with more prominent marginalisations, but hopefully, it's a starting point.
DG: You have created an Indigogo crowdfunding campaign to support this anthology. Tell us more about this, and how would this help the anthology, as well as usually unheard voices?
RR: Our campaign can be found at http://igg.me/at/problem-daughters, and runs until 14 February. We're running a flexible funding campaign; once we reach our halfway point of $4,500, we'll be able to guarantee professional payment rates to our authors. Our second goal of $9,000 will allow us to publish a longer anthology, including essays and internal artwork; we very much hope that we can make this more beautiful, substantive version. If we're funded beyond that, we have other ideas of how to make Problem Daughters even more special.
We've fixated on pro payment because it's all too common for labour, particularly in the form of art or writing, to be demanded of marginalised people for little or no pay. We want to pay our authors what they deserve (or as close as we can reasonably get).
DG: For the writers interested in submitting to this anthology, what is the one advice you would give?
Don't self-reject. If you're not sure if your work fits the brief – submit. If you're not sure if it's good enough – submit. If this is your first potential submission, your first in English, your first in the genre – you get the idea. We're a team of three experienced editors, and we want to read your story.
Rivqa Rafael is a queer Jewish writer and editor based in Sydney. She started writing speculative fiction well before earning degrees in science and writing, although they have probably helped. Her previous gig as subeditor and reviews editor for Cosmos magazine likewise fueled her imagination. Her short stories have appeared in Hear Me Roar (Ticonderoga Publications), The Never Never Land (CSFG Publishing), and Defying Doomsday (Twelfth Planet Press). In 2016, she won the Ditmar Award for Best New Talent. When she's not working, she's most likely child-wrangling, playing video games, or practising her Brazilian Jiujitsu moves. She can be found at rivqa.net and on Twitter as @enoughsnark.